1. The architect I have chosen is Goni Dagan. We had an interview especially for my blog in order to pour light on her work, her thoughts and experience and to give a sneak pic of the Israeli modern architecture. Goni was born in the same village as I did and is the older sister of one of my best friends.

Q. Please introduce yourself
A. Goni Dagan, 32, living in Tel-Aviv. I work as an architect in the architecture team of Alonim + Goorevitch Architects and town planners, also located in Tel-Aviv.

Q. Please tell us your main events in life in short
A. I was born in Afula, Israel, and raised in Kibbutz "Negbea", in the south of Israel. After graduating from "Tzafit" high school (majored in Biology and Chemistry), worked for 5 years in the field of media and public affairs. During that time I lived in Ottawa, Canada, for a year and a half, where I was poisoned as a Liaison Officer in the Embassy of Israel to Canada. I graduated from 'Bezalel' academy of arts and design in 2019 (B. Arch). During my studies, I took part in an exchange program at the University of Applied Arts (Angewandte), Vienna, in studio Hani Rashid.
Q. Tell us about 3 major projects you have been part of/ you are working on
A. 01 – Amit Nachshon high school (grades 7th to 12th) – currently under construction
· Located in Noham (near Bet Shemesh)
· The high school is part of the innovation program of the Israeli Ministry of Education
· Size – 6,500 sqm
· 900 students
02 – Urban Renewable, Shay Agnon, Netanya – currently in the demolition phase
· The project is under an urban renewable plan ("Pinui Binui"). The plots originally contained 8 buildings with 208 residential units, which were built in the early 60'. Due to the poor condition of the buildings, they will be demolished, and new 872 units will be built, in 14 new buildings.
· Our studio oversaw the urban planning.
· The architecture and planning under the collaboration of two Architecture studios. We are currently in the Demolition phase of the first plot (out of two) and will soon start the construction of the first 8 new buildings on one shared basement.
· I am taking part in designing and planning of 4 buildings, 3 of 10 floors (32, 32, 46 res. units) and 1 of 25 floors (110 res. units).

03 – Mixed Used, Ben Shemen, Lod – currently under planning
· The project is part of a new neighborhood in Lod.
· In the plot, there are two residential buildings and one commercial and office building, on a shared basement.
· 132 residential units
· 5,000 sqm of commercial space
· 6,000 sqm of office space
· During the planning process, we suggested changing the layout of the commercial and office building (as was planned in the urban plan), so it will be a part of the neighborhood's public spaces sequence.
Q. What is the project you enjoyed planning the most so far and why?
A. I think every project has some aspects I enjoyed more and some less. Each project brings its challenges and complexities and, as being a relatively new architect, I am learning a lot from every project I take part in.
Amit Nachshon must be the one I feel more connected to. I find a special interest in education buildings and learning environments. Taking part in the innovation program, we had to collaborate with the school's teaching staff, in finding untraditional and flexible ways to create the learning spaces. While having the teachers' perspective, we also kept on thinking about the students' perspectives and experiences. The non-formal spaces of the school required an equal
effort as the formal ones, and a lot of thought had been put into the landscaping and the interface of indoors and outdoors. I feel while in large-scale residential buildings that interface is relatively limited, in the school we had many opportunities to explore it. I do believe in the importance a good school building can hold in the everyday of the students. Though not the only
component in the school system, the building is part of the well-being of the students. It can evoke creativity, provide well-designed spaces for learning and exploration, and offer peaceful places for a well-earned break.
Through that project, I am also learning to handle a relatively restrictive budget and how to recognize the more and less important components of the architecture.

Q. What led you to study and practice architecture?
A. Since I can remember, I was drawn to design, and architecture seemed to be a very challenging field of design. As I was learning more about it, I realized the amount of influence and importance architecture had and will have on the world and humanity's well-being.
Q. What do you think about architecture, it´s necessity in our world, its importance.
A. As the majority of humanity lives in a built environment, it is safe to say that architecture is an inseparable part of our everyday lives. If you hate your apartment, it probably means your life is not as good as it could be. Same as the streets you're riding your bike daily, Same as your studio or the nearest park (and I think there is no need to elaborate on global warming, carbon footprint, and energy management).
Architecture contains the power to change for better or worse people's lives. The challenge is that most of its acts are on the large scale and last for tens and hundreds of years. It is relatively slow in comparison to other fields, and it might be hard to predict how some decisions been made today will affect people in 20, 30, 50 years from now. 

Q. How would you describe the Israeli architecture ? What are the things that make it unique, different and "Israeli".
A. It is a very general question to answer. The Israeli atmosphere is full with different factors and variety of populations, with different views and needs. The differences between cultures within the country, forces our thinking and planning to be more site specific and thouthfull to those aspects.
As an example, there are restrictions and factors one should consider while planning a residential building/ a public space that is going to serve the orthodox Jewish community. This might be quite different than planning for secular population. As in other cases, for instance, we can see the complication of having a unique culture such as the Bedouin tribes, located in the south of Israel, who's traditions calls for a very specific planning system. The differences between their traditions and the Israeli planning system, requires creative thinking and planning.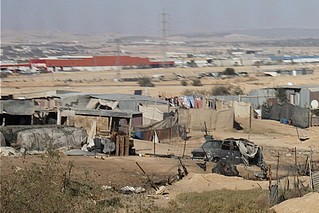 Q. What are the things/ characteristics, in your opinion, that make an architect a good one?
A. I am still finding out myself. There are so many things I feel you should be able to do well. First, you have to be a good designer and have a vision for your work. You need to know how to combine the different requirements and your personal values into an aesthetically pleasing and functional product (building) for its users. You have to know well the local relevant laws. You have to be a good manager, as many times you'll have a team of different engineers and consultants taking part in the planning process because making the integration between everyone's work and the building is yours. You have to be able to present your ideas in clarity to different people – colleagues, clients, and municipal representatives. You have to be willing to learn, all the time. You need attention to details and be able to understand their importance on different scales. You have to love challenges. I think a good architect cares about the environment and the people they contribute to.

Q. Please describe what architecture is for you, as you see and experience it.
A. As for me, I fill it is the process of design, planning, and a lot of problem-solving mixed with creativity. So far, I got to take part in planning large-scale buildings. In this type of planning, you would usually be working in a spiral process. You have the general design and planning, and then you will slowly go through the different systems and construction (and again and again), eventually getting to the very small details, when during that process you keep looking at the initial design and plan. This is usually where the problems and the challenge lie. I love the beginning when there are many options you can choose from, and your creativity has relative freedom. I also like that during the "problem-solving" process, you get to experience a different kind of creativity, learn a lot and find ways to improve your next project.
2. Reflection about the text "Quiero ser Arquitecto", by Alberto Campo Baeza.
I really enjoyed reading the text. I have to admit that throughout the begging of it, I felt like the writer was trying to praise himself and the fact that he is an architects without any modesty and without a solid reason. After thinking about why did I feel that way, I understood that as a first year student of architecture, I still can not understand the emotional connection he (the writer) has to his beloved profession. With that being said, it did give me many points to think about that I could not have without reading this text, or maybe I could, but not as quickly and clearly.
The main idea I am taking from the text is the "being active method". The writer mentioned many methods of how one can practice and improve themselves in order to be better architects, and better humans. I liked the part where he talked about his friends who also like him, studied architecture but had continued in different paths such as restaurants owners, movie directors etc.
I really liked the recommendations the writer had attached to the text, with specific books and inspirational Spanish architectes- as a reader, I felt like he is trying to guide and help me to fulfill the task I have taken on myself- completing the architecture degree and become and architect.
It is really inspiring to see and read about someone who is so passionate about their profession with the knowing that you are aiming to work in the same workfield as they do.
The text was very readable and friendly to the reader, I really liked the extra drawing he added. Overall I am really glad I had the chance to read and learn from it.