Haim Dotan
Dotan was born in Jerusalem in 1954. His father immigrated to Israel from Ukraine and his mother was born in Shanghai.
Studied at the high school near the Hebrew University in Jerusalem. After military service he went to New York where he was a jazz dancer. After a year he retired from dancing and worked as a construction worker and at the same time began studying architecture at the University of Southern California in Los Angeles.
Completed B.Arch degree studies in architecture and M.Arch in architecture and urban design.
After a career in Japan and the United States, including an independent architecture office in Manhattan, in 1990 he founded Haim Dotan Architects Ltd. in Tel Aviv and in 2010 a branch was founded in Shanghai, China.
His office focuses on research and development, construction and architectural thinking and plans various projects around the world.
Zhangjiajie Grand Canyon Glass Bridge by Haim Dotan Ltd.
The Zhangjiajie Grand Canyon Glass Bridge is the world's tallest and longest pedestrian glass bridge in China and worldwide. Located near Zhangjiajie City in Hunan Province, People's Republic of China, the Zhangjiajie glass bridge is 385 meters long, 6 meters wide and 300 meters above the canyon floor below. The bridge accommodates up to 800 visitors. It will feature the world's highest bungee jump, and serve as a stage for fashion shows and cultural events.
Bridge Engineering
General Data
• Bridge height: 300 meters
• Bungee jumping height: 280 meters
• Bridge length: 385 meters (430 meters between suspension towers)
• Bridge width: 6.0 meters
• Maximum Occupancy: 800 people at one time
• Physical Weight: 2200 tons (without cables)
Bridge Structure
The Zhangjiajie Glass Bridge is a medium-span suspension bridge. The bridge is located in a typical Karst area. Many faults and sinkholes are found surrounding the bridge's two ends. The canyon spans 385 meters and the towers which support the main cables stand on each side at a distance of 430 meters. To achieve the architectural goal of integrating the bridge into nature and minimizing the height of the beams, a girder structure was designed with height of 0.6 meter and the span-height ratio reaches 625 (375/0.6), breaking the Chinese record.
3 aspects that have caught my attention from this architectural structure:
It´s connection to nature. From what Haim Dotan, the architect who designed this bridge says, one of the most important parts is the connection to nature. Surrounded by beautiful national parks and amazing views, Dotan wanted the bridge to almost disappear within nature and not to be an disrupting object.
I really like the bridge's clean design. I think it is a big statement to build something so outstanding and meanwhile keep it modest and loyal to its purpose (which on this case was being one of China's symbols and being a connector between two important points).
The wavy handrail design and the way it interacts with the nature around it. as Haim Dotan says in one of the articles: "We invented a waving handrail design to create dynamic of movement and a relationship with the spectacular views. Glass handrails were considered but rejected due to the high wind forces and high costs of the affected suspension cable system."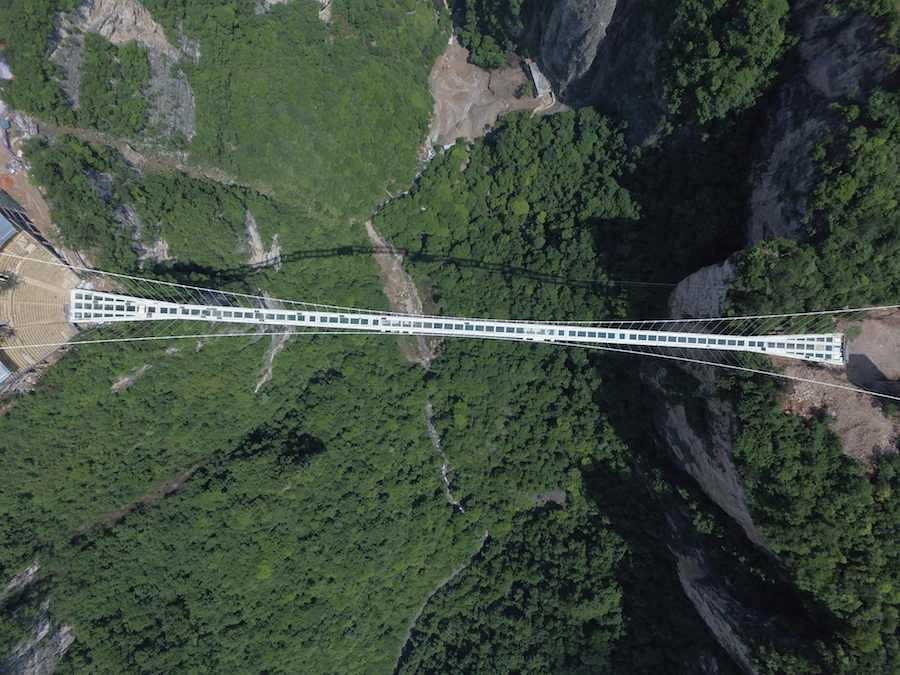 Bibliography: